Would you like to know how to give your nails healthy manicures? Don't worry.
There is a lot of talk about the potentially damaging effects of manicures, especially if we aren't careful. As a result, finding one that won't weaken your nails can be challenging.
Some manicures aren't harsh, however. If the nails are healthy, they won't break. They can even be luxurious if they soothe aching joints.
If you choose to have any form of manicure, you may endanger your natural nails and your health overall.
A few manicures are risk-free, however.
Would you like to know more? The perfect gift for someone special is a healthy and therapeutic manicure. Alternatively, maybe you are stressed and need a break. Here is an article that will tell you the ones that are the safest and healthy manicures.
Discover how to take care of your nails with healthy manicures.
Natural Manicure or Basic Manicure:
The benefits of natural manicures include:
Don't have any acetone in it, which is a dehydrator and can damage the nail plate
Natural manicures require only gentle buffing with a fine grit nail buffer, not excessive filing or buffing that can weaken your nail plates
Avoid using any nail product containing harsh chemicals. If you want smooth, glossy natural nails, some salons apply a ridge filler or a top coat. There is an option for this, and these coats are usually very gentle on your nails as well as very safe.
Natural manicures are safe for the most part when performed correctly.
Cleanses and neatens your nails with a natural manicure. Most of the time, it does not involve using harsh nail products.
Natural manicures instead include:
Cleaning and fixing your cuticles
Shaping your nails and trimming your cuticles
To make your nails look extra glossy, buff the tops of your nails with a fine grit nail file.
A glossy top coat can be applied to your nails by some salons, but this is not required.
French Manicure: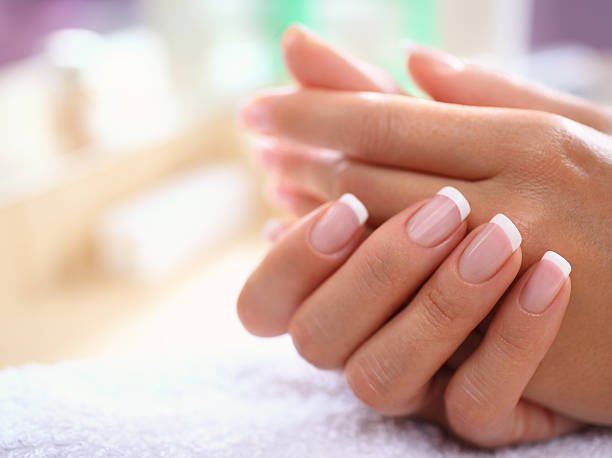 The classic variation of a basic manicure. This manicure is classic, elegant, and timeless. The procedure is similar to a basic manicure.
All that differs is the color scheme. There is a natural color on the nails, and it is white at the tip.
Alternatively, you could try something more enjoyable. Change the color of the nail and the tip of the nail. A simple example is to paint the nails light brown and the tips black. A great way to spice up your nails is to do some nail art.
There are three types of French manicures: regular polish, gel polish, and acrylic nails. While acrylic is the harshest option, the regular polish doesn't hurt your nails either.
However, you can do it yourself with our products, but it's difficult to do it yourself.
Standard nail Polish Manicure:
Because standard nail polish does not require the use of too much acetone or excessive filing during application and removal, they are safer than other types of manicures. Using too much acetone will damage your nails.
As well, nail polish usually doesn't release strong fumes during application, unlike acrylic nails.
One of the easiest and simplest manicures is applying standard nail polish.
You can perform standard nail polish manicures in a healthy and gentle manner once you use safe and healthy nail polishes.
A standard manicure usually consists of:
Cuticles that are aligned and fixed
Using a medium grit nail file, gently buff your nails to remove any dead cuticle skin cells.
Keeping your nails trimmed and shaped.
You can create your own nail designs by using colored nail polish.
Gel Manicure:
As an alternative to acrylic, gel extensions, and polygel manicures, gel polishes are healthier and safer.
Gel polishes are safer since they are easier to remove and usually don't require harsh chemicals when they are applied.
The use of regular nail polishes has become safer and healthier than using gel polishes. However, if you want a manicure that is more durable yet relatively safe, I recommend having it done with Gel Polish.
While regular nail polish can last up to 6-8 days, gel polish can last up to 2-3 weeks without peeling or chipping.
What you have to do is:
Gel manicures begin as standard manicures. Several layers of polish are applied to the nails.
There are usually two layers of gel polish on top of the base coat. Then you should use UV light to cure the gel polish. Afterward, a top coat will likely be applied.
Unlike conventional manicures, this manicure does not smudge and lasts a long time.
Dip Powder Manicure:
As with gel polishes, Dip Powder is also a form of healthy manicures and a safer alternative to acrylics, gel extensions, or Polygels.
You can use them to give your nails a strong manicure without damaging them. A Dip Powder manicure can last for three to four weeks without peeling or chipping.
The application process of Dip Powder manicures uses more chemicals and they are difficult to remove than regular nail polishes, therefore they are less safe.
Unlike nail polishes and gel polishes, Dip Powder lasts longer and is stronger. Covering your nails with a hard protective layer will also prevent your nails from being damaged.
You might not have heard of this before. But what exactly is a 'dip powder manicure'?
For this safer and healthy manicure follow these steps:
A regular base coat is the first step. What next?
You dip your nails into a pigmented powder. After the powder has dried, a topcoat is applied.
A manicure that lasts up to three weeks is similar to gel nails.
The nails do not harm during the process, either. Too much use can cause minor nail damage.
Press On Nails:
The easiest and safest way to add extensions to your nails without damaging them is to use Press on Nails.
You can easily paste Press-on Nails onto your nails for a well-done manicure in an instant.
Press on Nails don't require any harsh chemicals or too much filing during the application process acetone and filing can damage your nails
Depending on how they are applied Press on Nails can be easily removed without having to do any filing or use any acetone.
There are a lot of options available when it comes to this manicure. There are endless color, style, and accessory choices.
Nail polish remover also works well to remove it. Changing your nails daily is an option if you like.
Do you feel elegant and classy? You'll look fabulous with this French manicure press-on. What type of style do you prefer? It's easy.
The Best Ways to Make Healthy Manicures and Safer:
It is important to take care of our nails, but it is often overlooked. Damaged nails are often covered up instead of being helped.
The damage has been done, but what can be done to repair it? Gel polish is often asked if it will strengthen nails. The truth is, it might do more harm than good.
Overused nails become brittle and breakable. It's also possible to get ugly ridges.
How do we repair gel polish damage? Are they repairable?
Nail strengthening polish can be used to restore your nails. By strengthening and repairing your nails, these polishes will last longer.
These base coats can be used with your manicure or on their own. Nails will also grow longer and stronger with these base coats.