There are different methods to create the design on the nail. Fill dip powder nails are one of them. There are many stages to this procedure, so you'll need to be aware of exactly what you'll need to do. Read on for recommendations on how to fill your dip powder nails.
The nail should be filed in a way that it is short and clean.
A base coat should also be applied to the nail to ensure that the polish will not smudge.
Attach the glue to the entire surface of the natural nail.
After that, select your new powder color and apply it to the nail.
Cover the surface of the nail with a layer of base first.
Next, dip your finger into the powder and remove it.
Gently brush off any excess powder after removing it from your finger.
Apply another layer of base followed by a layer of powder again for a third time.
Fill in any gaps in between with clear powder this time instead of white or transparent glitter.
This powder is then brushed over the top of the nail and sealed with clear lacquer or topcoat.
Can you fill dip powder nails with acrylic?
Yes, you can. However, the dip powder you employ to fill acrylic nails is a liquid that must be mixed with or used instead of acrylic liquid or monomer to create acrylics, not a powder with an activator for dip nails. Acrylic liquid and powdered are compatible. Paint the liquid onto the prepared nail and then dip it once again. Dip, brush, paint, dip… After which finish with a final topcoat of liquid.
If you use dip powder to fill acrylic nails, remember that you'll need a pH balance/dehydrator and acrylic primer. These new fill-ins will lift prematurely unless they're treated similarly to gel manicures.
Dip powder nails tips and tricks
Always brush parallel to the nail to prevent the bristles from poking or indenting the powder.
Before using, you should shake the dipping powder jar well. The shaking will make it easier to dip.
It's essential that you dip at a 45-degree angle and then pull straight back out. Do not press the nail against the powder.
When tapping off extra powder, you should aim your finger straight down to prevent the powder from falling back onto the nail.
After completing your bottom accessories, you must clean all the neck and rim of your components with alcohol as soon as possible. You also make sure to tightly cap their tops.
You keep them in a cool place away from heat and direct sunshine. The dipping base and dipping activator will be difficult to open if you don't do so.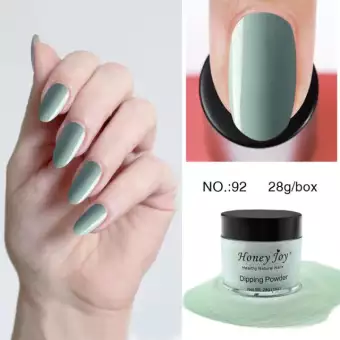 Can you change dip nail color?
You can polish your dip powder nails. Most of us grow tired of one hue after a few weeks. However, the good news is that you won't have to waste any time or money every time you ask for a refill. As previously stated, you can simply change the color of your powder and paint them with a variety of nail colors! Painting over your dip nails with ordinary polish is one technique. Gel nail polish may also be used to paint over your dip nails.
How do you apply nail polish over dip powder nails?
You can still effortlessly create your favorite appearance, and all you must do is:
Nail polish remover should be used to clean your nails. Although this won't dissolve your dip powder, it will kill any germs on your nails.
Shape them using a nail file and then file with one. (But don't use a nail buffer.).
Apply your preferred nail color on top and go down with three thick layers.
If you want to paint on top of your dip powder, the easiest method is to go a shade or two darker than the tone of your dip powder.
After each polish, allow your nails to dry down for 10 minutes.
Use a high-quality topcoat to keep your manicure from shifting.
How to remove dip powder nails?
Things you need for this purpose:
Nail clipper, filer, or buffer
100% pure acetone
Foil and cotton balls
Cuticle pusher or orange wood stick
Bowl
First step:
Wrap your nails in acetone-soaked cotton.
Make an acetone bath for your hands by gently pushing the dip off them.
Second step:
Wrap your nails in foil.
Remove the foil after a few minutes.
Buff and nourish your nails.
Can you use dip powder on top of polygel nails?
How to keep dip powder off skin?
Get a clothespin, not the one that you push down, and clip it to the sides of your nails. It will pull back the skin on your nail, allowing you to paint, gel, dip, or do whatever else you want.
How much is dip nail with tips?
Basic dip powder nails cost $40-$80 for a set. Tip extensions are another $10-$20. Additional $15-$50 for nail art. If you want your existing dip set removed, add an extra $10-20. Any spa amenities (such as lotions, massages, etc.) will cost an additional $50 and up.