The pedicures are low-risk, high-reward cosmetic treatments. The process is simple and quick, and your feet will look amazing. With different pedicure types, you can treat dead skin cells and calluses on your feet. Toenails are filed, cut, and shaped for a well-groomed appearance.
As your feet carry you everywhere, you should not settle for uncomfortable shoes for the sake of your style. This is why you should treat them to a nice, soothing pedicure every now and then.
Salons today offer several kinds of pedicures depending on the condition of your feet and your individual needs. Your liking of the color of your fingernails is also taken into consideration, and you'll get it exactly as you wish.
We explain how pedicures work and what they can do for you in this article. Continue reading.
What are the different pedicure types:
As a result of the nail spa and nail salon explosion, there are now an enormous number of pedicure options. Each pedicure option is tailored for a specific nail care need or spa experience. You can also take some examples from manicure types because they both have some similarities.
The following list of pedicure options includes everything from a French pedicure to a hot-stone pedicure, but keep in mind that every spa and salon uses its own products and terminology to describe the different types of pedicures.
1. French Pedicure: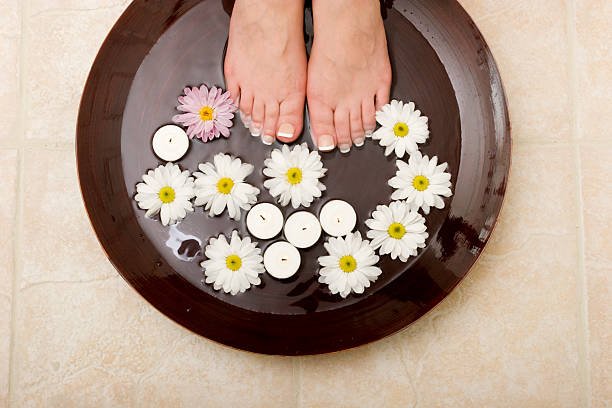 In a French pedicure, nail polish is applied to the nails with one distinct difference from a classic pedicure. Finish by applying a thin white band to the nail tip. Typically, a sheer nude or pink polish is applied to the base of the nail.
French Pedicure types include:
Put together your materials for the French pedicure.
During a luxurious foot soak, you can relax and soothe your skin.
Then scrub your feet properly and prepare your nails.
Apply white polish only to the nail tips.
Using a makeup brush and polish remover, perfect your white tips.
Give your toenails a gorgeous final look with clear or nude pink nail polish.
2. Regular/Basic Pedicures:
Pedicures are probably most commonly known as classic or basic pedicures and they are the ones that are most commonly preferred. Treatment is quick, affordable, and hassle-free without frills and fancy.
Steps for Basic Pedicure:
Put warm water into foot spas or basins.
Soak your feet in soap, Epsom salt, or Epsom salts to clean them. Let them soak for five to ten minutes. Wash and scrub your feet gently with a pumice stone. Scrub your feet with a foot scrub. Then, rinse your feet with water. Use a nail file to shape your nails.
With a small nail file or cuticle tool, push your cuticles back.
Hydrate and moisturize your feet with foot cream. Make it easier to paint your toes by placing them inside toe separators. Apply your base coat, let it dry completely, then apply your top coat.
Remove the toe separators only after your nails have dried completely.
3. Gel Pedicure:
Gel pedicures use UV light technology to extend the duration of nail color. In addition to being more expensive, this treatment involves essentially the same steps as a regular pedicure.
Once the nails have been cut, filed, and cleaned, they are covered with three layers of gel polish – the base coat, the color, and the top coat.
The layers are all cured under an LED lamp.
Gel-based polishes are more durable and chip-resistant than traditional polish. Gel-based polish usually lasts between two and four weeks.
4. Paraffin Pedicure: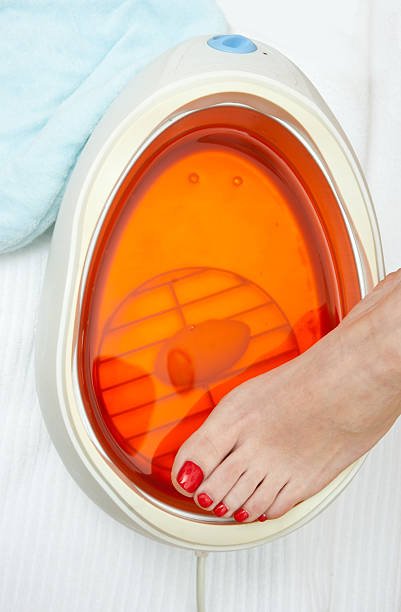 The purpose of a paraffin pedicure is to relieve the pain in the feet by soaking them in paraffin wax baths. In addition to promoting relaxation, it increases circulation. In addition to treating conditions such as arthritis, joint fitness, and active motion, it can also be used to enhance muscle strength. Additionally, it keeps skin moisturized.
The following are the steps for a paraffin pedicure:

First, the warm wax is applied to the skin.
Salons dip the feet several times in liquid paraffin wax before covering them in plastic or a towel.
When your wax get cold, wipe it with soft tissue. After that, a moisturizing cream is appl

ied.

Finishing the pedicure with nail polish is the final step.
5. Fish Pedicure types: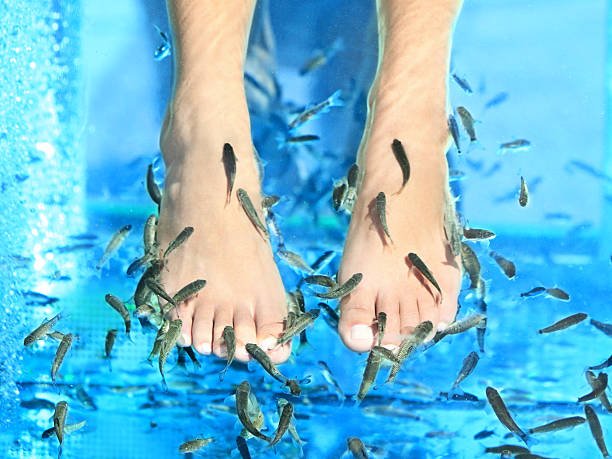 In almost all ways, fish pedicures are similar to classic pedicures, except one: they remove dead skin.
In contrast to traditional pedicures that remove calluses and dead skin with pumice stones or metal foot files, fish pedicures remove calluses by nibbling them away by using small carp fish called Garra rufa or doctor fish.
6. Hot Stones Pedicure:
The hot stone pedicure, as its name implies, provides pain relief and relaxation. This technique is similar to hot stone massage, which is an effective therapy for sleep disorders.
This pedicure involves the following steps:
You begin by soaking your feet and cleaning them and then trimming your nails.
Heat is applied to flat stones, such as basalt rocks, placed on top of and beneath the feet. The heat from the rocks relaxes your muscles and stimulates your feet' pressure points.
This is usually done in 10 to 30 minutes.
Then massage it with any beneficial oil of your choice.
The procedure ends with a coat of nail polish.
7. Milk and Honey Pedicure: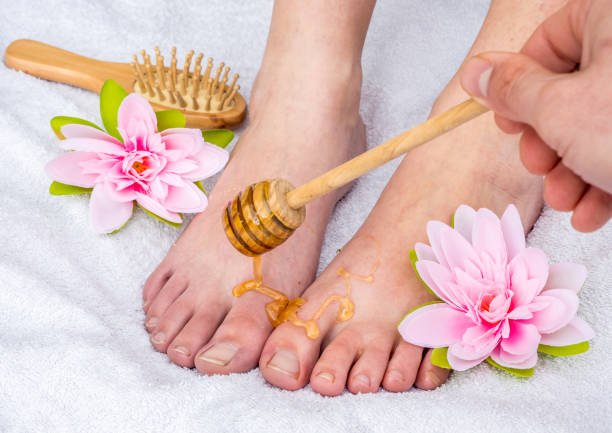 To moisturize the feet, a milk and honey pedicure uses the natural moisturizing properties of both ingredients. Honey has soothing, humectant, and emollient properties in cosmetic formulations. It keeps the skin wrinkle-free, healthy, and free from infection.
During the pedicure, the feet are soaked in a warm milk bath and exfoliated with sugar scrubs. You are also given a milk and honey mask to seal in moisture on your feet.
Steps to do:
Warm milk and add honey and vanilla extract.
Dip your feet in the mixture and let them soak for five minutes
If you notice rough patches on your feet, sprinkle baking soda on them and scrub gently.
Then soak your feet for an additional five to ten minutes.
After drying your feet, apply a moisturizing lotion.
8. Spa Pedicure:
The spa pedicure offers an upgrade over a classic pedicure. Also known as a deluxe pedicure, it includes treatments like paraffin wax dips, mud masks, and seaweed treatments.
It may also include special oils for sensitive skin or skin concerns that are formulated for this special pedicure.
9. Waterless Pedicure:
With a waterless pedicure, your feet are not immersed in water during the treatment. As with any pedicure, the remaining steps follow the same pattern.
Using an electric file, the callus is smoothed, the nail is shaped, and the cuticles are cleaned.
Traditional pedicures cause your nails to expand, which is why many people consider waterless pedicures more efficient. They ensure the nails are dry before applying the nail polish.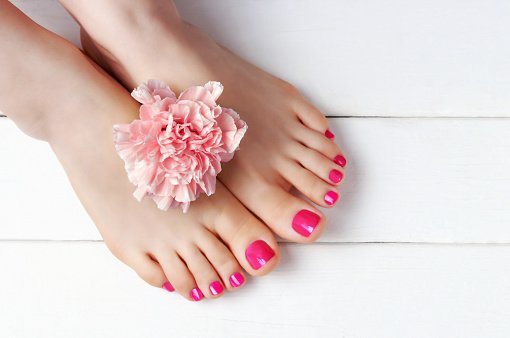 10. Mini Pedicure:
Mini pedicures are similar to basic pedicures, but they focus mostly on the toes. This service does not include a massage or sole care.
People who take care of their feet regularly and need a quick touch-up between regular pedicures usually opt for a mini pedicure.
This procedure involves soaking the nails, shaping them, and applying polish, although some salons also offer short massages, food baths, and scrubs. Choose a mini pedicure package that includes these services if they are significant to you.