As women, we make sure to spend some time treating ourselves, and one of those days is our salon day. The result is beautiful hair and skin when we leave the salon! One significant part of our bodies is our nails, which are equally as important as our hair and skin. Manicure types are a great way to show your nails some love.
You not only look prettier with a manicure, but you will also have healthier and cleaner nails. Taking care of our nails is no different than taking care of our hair and skin because unmaintained nails seem unappealing no matter how pretty you are.
You need to know exactly what you want and what you can expect before you get a manicure, so we suggest you check out the manicure types.
There are some Manicure types given below:
Like pedicure types, you've decided that you should also learn every detail about manicures, so let's begin with all the different manicure types that salons provide.
Experiment with different manicure types and see what works best for you. Learn everything you need to know about them in this article, from the Acrylic manicure to the shellac manicure. Read on to learn more.
1. Acrylic Manicure:
Are your nails too short? An acrylic manicure will solve your problem. A hard layer of the acrylic nail is formed by mixing powder polymer and liquid monomer. This is a nail extension that eventually looks like your original nail. A reliable salon can provide an expert manicurist. A manicure made from acrylic is the best option if you are consistently breaking your nails as you attempt to grow them.
A liquid polymer and powder monomer are combined to make an acrylic manicure.
In order to make the nail bed rough for applying this mixture, the nail bed must first be buffered.
The mixture is applied with a brush to rough nail surfaces, then shaped into desired nail shape.
After drying, acrylic nails are filed and painted with nail polish to make your nails look 'perfect.'
A lot of people these days are getting acrylic manicures. With these gorgeous nails, you'll be able to show off your new long, gorgeous nails like no other!
2. French Manicure: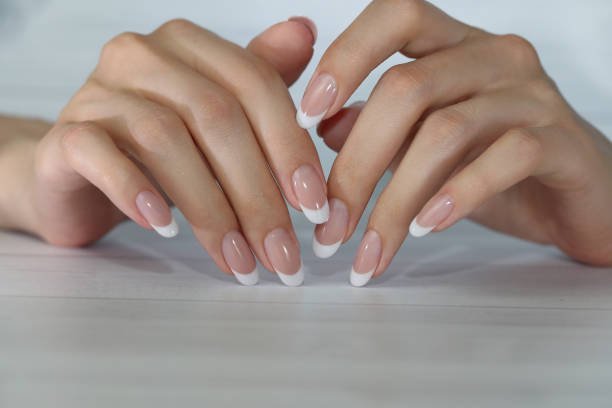 The classic French manicure is never could be out of style. Not only does it look gorgeous, but it works for any occasion. French manicures create iconic nails like no other.
It differs from other types of manicures since the tips of the nails are painted pure white rather than being painted in a single color, as is the case with most other types of manicures.
The process is very simple.
A manicurist will paint your nails with a clear or pale pink nail polish.
Afterward, white nail polish is applied to the tip of the nail in a crescent shape.
Alternatively, you can paint the tips in different colors if you want – giving the classic French manicure a colorful twist.
3. Paraffin Manicure types: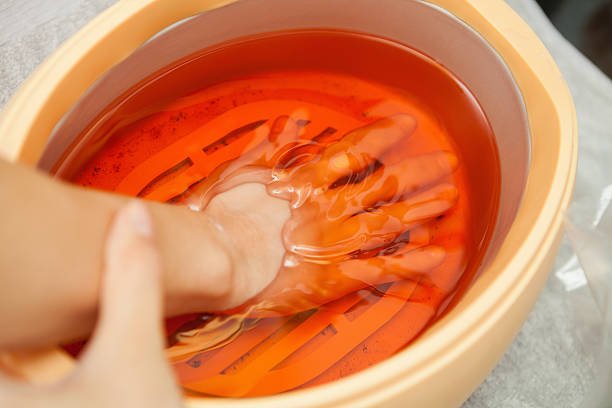 The best way to keep your hands soft and smooth is to get a paraffin manicure. You can think of it as your own personal spa treatment for your hands.
During the treatment, oils are applied to the hands to stimulate them. As a result, you will be amazed at how soft your hands are at the end of the procedure.
Getting a paraffin manicure from a spa is recommended instead of doing it yourself.
Melted paraffin wax is allowed to cool for a short period of time after melting.
Your hands are treated with lotions and oils as the paraffin is melted and cooled.
The palms are dipped into the melted wax until the temperature is bearable.
The wax is allowed to dry on your hands after your hands are completely covered with paraffin wax.
One more dip in melted wax is performed, followed by a second drying period of wax. You repeat this process a total of seven times, creating seven layers of paraffin wax on your hands.
You then let your hands rest for 30 minutes.
Once the wax has been removed from your hands, you will receive your manicure treatment (massage, nail shaping and filing, and nail painting).
As a result of paraffin wax, amazing results are obtained. Following the manicure, your hands will feel wonderfully soft.
4. Mirror Manicure: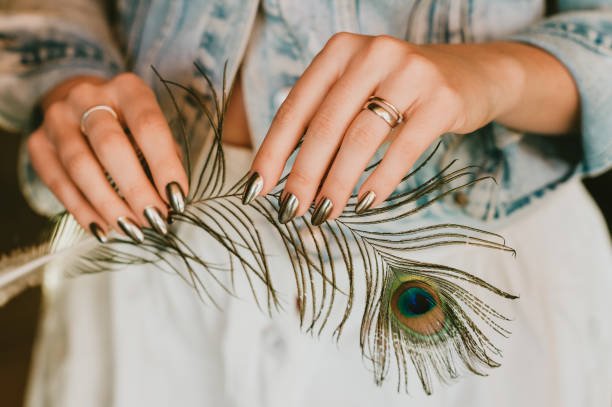 Mirror nails are all over social media, whether it's Instagram, Pinterest, Youtube, or even Facebook. It was first noticed in social media, and since then millennials have become obsessed with it.
Let your nails do all the talking for you if you are the type who loves to show off their inner bling.
In order to perform a mirror manicure, the hands are dipped in warm water, massaged with a cream or oil, the cuticles are tamed, and the nails are shaped. This type of manicure comes to a conclusion with the last step.
The nails are painted black or any dark color after all of the steps of a basic manicure are complete.
Then, they are cured under a UV lamp.
The chrome powder or pigment is sprinkled over the dried nail paint after it has dried completely to create an even mirror-like appearance.
Once the chrome pigment has been sealed with a clear topcoat, the finished product is mirror-like.
A UV lamp is used to dry the nails again.
5. Hot stone Manicure: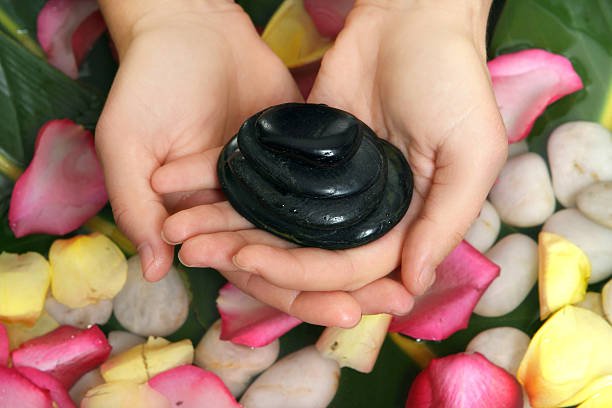 An effective way to relieve tension in the hands is to use hot stones that are held in the hands.
Thus, if you spend extra hours in front of your computer, you need to take special care of your hands. How about a hot stone manicure?
To perform a hot stone manicure, the stones are boiled in water until they reach a temperature of 120 degrees Celsius.
You dip your hands in lukewarm oil-infused water while the stones are heated.
After the stones are hot, they are removed from the boiling water. You place them on your hands when the temperature reaches 56 degrees Celsius.
The stones are used to massage the hands. Your muscles relax when certain pressure points are applied.
The stone massage takes about 15 minutes, and then the usual massage is conducted with lotion or oil.
It usually takes 50 minutes to an hour to perform a hot stone manicure.
You will feel relaxed, calm, and light after a hot stone manicure.
6. Shellac Manicure types:
If you are one of those people who cannot take the extra time and care to fix your nails every now and then, a shellac manicure is what you need!
Shellac manicures involve applying a special blend of nail polish and gel. The result is a long-lasting manicure. In addition, the longer the nail paint stays on, the less likely it is to chip. The perfect shiny nails can also be enjoyed for up to two weeks.
First, the manicurist cleans, files, and shapes your nails.
Following that, the nails are polished with two coats of shellac.
Drying each coat involves using a dryer.
The nails are then topped with a clear coat.
Shellac manicures are stronger than gel manicures. Shellac manicures last two weeks and do not chip.
7. American Manicure:
American manicures are probably the best choice if you like the look of natural nails. The tips of the nails are painted a different color, as in the French manicure.
But the only difference is the color of nail paint used for painting the tips of the nails. Americans use more natural shades of ivory on the tips of their nails, and a French manicure is more subtle.
The American manicure creates a more natural look for your nails, making them appear more blended. American manicures are great for casual occasions.
Initially, you need to clean and trim your nails.
Rather than a square shape (as in a French manicure), your nails have a rounder shape.
On your nails, you apply ivory shades after the base coats.
Your nails are either airbrushed or painted with a brush applicator to apply the nail color.
8. Gel Manicure types:
Gel manicures last for a long time. This is the perfect option for someone looking for an easy-to-maintain yet stylish option.
Gel manicures don't require frequent manicure sessions in salons. The method entails simply using a specially formulated nail polish cured under UV light to ensure long-lasting results.
Gel manicures also involve filing, trimming, and shaping the nails, just like all other types of manicures. Curling the cuticles, filing, and trimming the nails are also part of a basic manicure.
As soon as the basic steps are completed, the nails are coated with a base coat, followed by two coats of gel nail polish.
Following the previous coat, the next coat is applied.
UV light is used to dry the gel polish.
Compared to other nail polishes, gel nail polish has a smoother texture and a more durable finish. Gel nail polish can last up to three weeks. Gel manicures will keep you looking wow for a long time.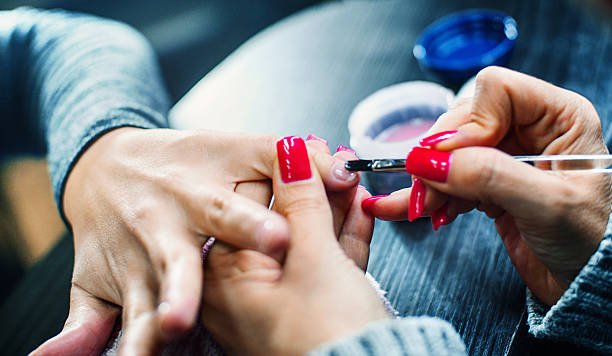 Passionate about the artistry of nails and dedicated to enhancing the beauty of hands, I am Elina Yael, a skilled Nail Tech and Manicurist based in the vibrant city of New Orleans. With a strong foundation of knowledge acquired from the prestigious AVEDA Art and Science Institute, I bring a unique blend of creativity, precision, and expertise to every client.