To remove and take off press on nails are easier if you follow my steps which I have discussed in my article, Nowadays, press on nails are going to be used too much. So there are lots of problems and issues regarding press on nails. One of the main frequently asked questions is how to take off press on nails without ruining them:
In this article, I will describe some methods to take off glue on nails easily with pictures.
Remove Press on nails using Acetone
To get acrylic nails off, always use 100% acetone to get rid of fake nails from your fingers.
What will you need?
Acetone remover
Warm water
Small Bowl
Cuticle oil or Olive oil
Steps:
Please take a little bowl, and put pure acetone on it.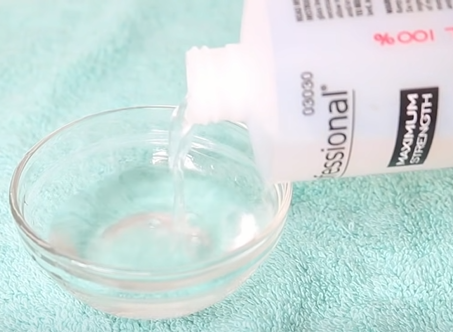 Soak your nails for 3 to 5 minutes. After this, you will notice that your plastic is melting and your gel polish is coming off your nails without damage. And always pull your nails from the side by side.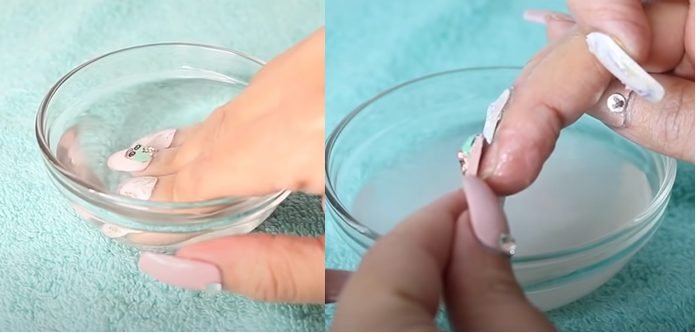 Using this method, the longer you soak them, the easier it is to remove the false nails. But sometimes, it little draws your skin.
After removing press on nails, some glue will stick on your nails, so you have to use premium oil or cuticle oil to peel off leftover adhesive. You then buffed off them with a buffing block to get rid of excess glue.
Related: Best way to fill acrylic nails
How to remove press on nails without acetone
Most people also try to remove nail polish or press on nails without acetone. Because it dries and brittle the nails. So I am giving you some home remedies and DIY methods to remove press on nails.
Use Cuticle Oil:
What will you need?
Nail Brush
Warm Water
Cuticle Oil
Cuticle oil is also the best way to get rid off fake nails. The process is given below:
Steps:
Apply cuticle oil with a nail brush all around your nail bed
Take some warm water, and mix body wash gel douche
Soak your hand in warm water and wait for 3 to 5 minutes. Now you can see that your nails will nicely pop off from your natural nails.
Use Warm Water:
What will you need?
liquid soap
warm water
bowl
Steps:
Firstly you should shaky your nails and remove the glue from your nails. For this, take warm water and put the soap in warm water and mix it.
Now soak your nails for 10 minutes. You will feel that your nail glue will be peel off from your nails.
Using a nail stick, lift the fake nail from the side by side nails until it removes.
Use Foil Method:
What will you need?
Aluminum Foil
Cotton rounds or Squares
100% Acetone
Steps:
Take cotton and wrap your fingers with aluminum foil
Wait for 15 minutes
Remove the foil; you will feel like that your nails are removed by yourself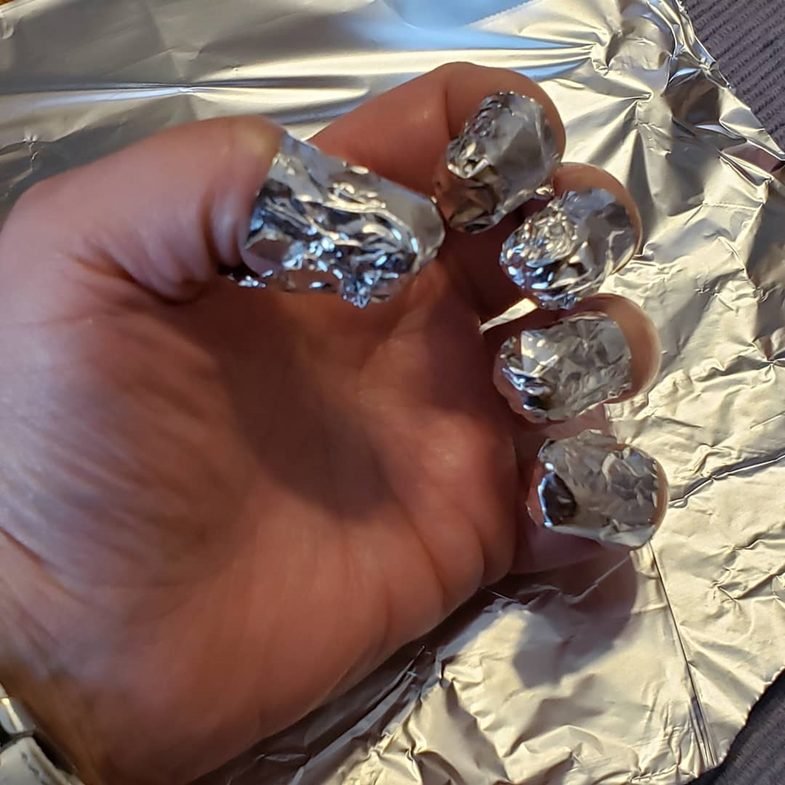 Conclusion:
In my opinion, if you want to get rid off press on nails from your finger fastly; you have to use the acetone method. But if you like safely method then I prefer the cuticle oil and the warm water method.