Nude stiletto nail designs are often used in conjunction with brighter accents, including beautiful gems and rhinestones of various sizes and colors. You shouldn't mistake boring for nude nail polish. Nowadays, the opposite is true. Many people do not realize that the Nude is a color. The term refers to a range of shades from pale taupe to neutral beige to rich brown, just like how lipstick comes in different shades of nude.
The stiletto-shaped nails are inspired by another long, sharp fashion staple: stiletto heels. So what exactly are stiletto nails? Essentially, they are thin, polished nails that have been filed or sculpted until they reach a smooth, thin point. Stiletto nails are pointy. They look gorgeous with nude polish. Nude stiletto nails look classy and chic.
If you're looking for a nude nail polish shade, try holding the bottles against your skin while browsing the nail polish aisle at the store. There are even times when you can test the shade at the store to ensure you're getting the right one.
Your next step is to decide what design will show off your stiletto nails once you've selected your nude nail polish. Take a look!
Glassy Nude Stiletto Nails
Get yourself one of these gorgeous stiletto nail designs encrusted in gold! Stiletto nails can be so over the top that it's hard to focus on just one highlight. All the fingers are painted differently. There are, however, some common characteristics among them: Milky white, pale pink, coppery orange, and gold.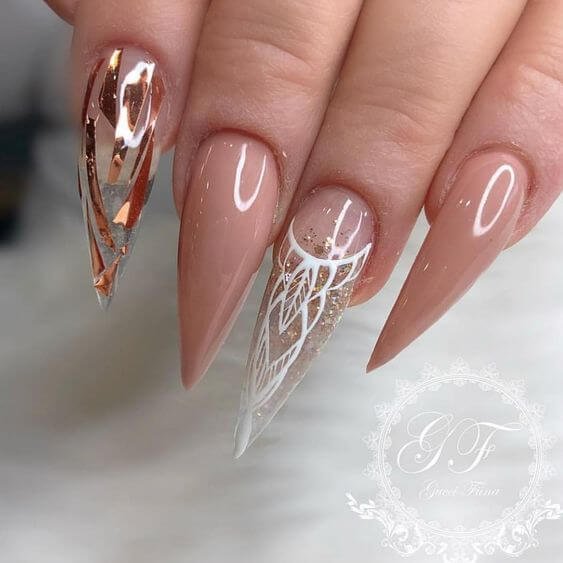 Black Tip Pointy Nails
If you are using long stiletto nails, keep the base nude, but add black at the tip for bold definition. V-shaped nails are very eye-catching, and they draw attention to the nail shape.
Nude Polish With Rhinestones
Even though these rhinestone-encrusted talons are unsuitable for professional typists, they would look great at the club or wedding events. Despite its shimmery appearance, a nude peach base coat is noticeable. Even so, it gives the sparkly design some depth.  
Nude Purple and Silver Stone Nails
Using silver rhinestones with a nude purple matte base polish will look breathtaking because of the obvious complementing effect. Try dividing the purple nails in half, defining the middle with a thin black line. Use glitter or rhinestones to complete.
French Manicured Stiletto Nails
Do you wish you had those French tips on nude stiletto nails, but lack the length? Consider pressing on or getting acrylics from a nail salon. You can also apply french manicure on your long stiletto nails. Your nails will be gorgeous!
Long Stiletto with Red Stones
A deep nude color gives these longer stiletto nails a red carpet-worthy appeal. In comparison to short nails, longer nails are more attractive. Red rhinestone accents keep the nails from being boring with their red rhinestone design. This stylish yet practical style would be suitable for virtually any occasion, whether formal or casual.
Pinkish Nude with Golden pointy Flakes
With a nude pink polish on an extra-long stiletto nail, you'll feel fierce and feminine at the same time. The elegant finishing touch is a gold sticker or golden flakes at the tips of pointed nails.
Silver and Shimmer Pointy Nude Nails
It is said that variety is the spice of life! There is no reason to stick to one color for your nails. Three different shades are incorporated into this look. The first thing you see is a soft pastel mauve, which is simply irresistible. You have another solid pink and silver glitter bomb look on another finger. Now for some soft pink shade on the pinkies.
White Snow Flakes Nails
Next, we have a glittery and stylish nail idea. Long stiletto nails are painted a light nude color and then clear with an overdose of sparkle. A beautiful nail idea that would be perfect for a party. With a nude, you can either recreate this or use any glitter color.